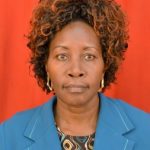 Winfrida M.A. Ojwang,
  Chief Catering Officer
Welcome to the Department of Catering, Laikipia University. The Department is a service unit which supports other services offered by the entire University. We operate with a Service Delivery charter which we follow to the letter.
We are charged with the responsibility of providing catering services to over 2000 customers daily, with most of our clientele being students. However, catering services are also extended to staff, all stakeholders and any visitor from outside the University. We operate a PAYE (Pay As You EAT) system, whereby a customer pays to the cashier on duty before being served with a meal.
Location
The Department of Catering is situated opposite the Halls of Residence at the University.
Vision
A Department for valued transformation of society.
Mission
To serve the students and society by providing hygienic, nutritive, affordable meals and advice on healthy eating.
Core Values
Customer satisfaction
Efficiency
Integrity
Punctuality
Respect
Teamwork
Mandate
To co-ordinate, prepare and serve meals.
To co-ordinate, procure, prepare and store all catering facilities.
To sell quality meals at affordable prices.
To manage all Kitchens and Restaurants under the jurisdiction of the Department.
The Department currently operates two restaurants and kitchens, namely; University Restaurants and Kitchens.
UNIVERSITY RESTAURANT
This facility is majorly patronized by students and operates from 6.30am – 9.00pm.
The main counter is open specifically  as follows:
6.30am – 9.00am- for Breakfast meals
12.00 noon- 2.30 pm- for Lunch Meals
6.00pm – 9.00 pm- for Dinner meals
There is a section in the University Restaurant referred to as Snack Bar which is opened from 6.30am – 9.00 pm. It majors in beverages and snacks.