Laikipia University innovators impress guests at the National Innovation Week.
Laikipia University was one of the few public universities that this week exhibited new-age and ground breaking innovations at the Kenya Innovation Week. This event is a flagship innovation forum for the country run by the Kenya National Innovation Agency (KeNia). It seeks to showcase the innovativeness of Kenyans under which the national priorities of the Big 4 Agenda and Vision 2030 will be advanced. It will champion relevant policy engagements on innovations within institutions while promoting practical skills necessary to create innovations that impact people.
In line with Laikipia University's mission of serving students and society through research, innovation, outreach and consultancy, participating in this event will strengthen the research and commercialization practices at Laikipia University for greater socio-economic impact within the campus and with the greater Laikipia Community
The Keynote speeches were given by Joe Mucheru CS - Ministry of ICT, Youth and Innovation and Prof. George Magoha CS - Ministry of Education. Also the Host PS Amb. Simon Nabukwesi PS - State Department for University Education and Research was at hand to give a keynote speech.
The invited international Keynote Guests were led by Kadri Humal Ayal the Honorary Consul The Republic of Estonia in Kenya and Patricia Scotland, the Secretary General - Commonwealth.
The four day innovation week had local and international exhibitors from Kenya, South Africa, England, Dubai, Europe and America.  Universities research and innovation leaders led by their Vice Chancellors participated in informative panel/ Summit discussions which were divided into various tracks as follows:
1. Skills for Innovation
This track explored the sharing and dissemination of information on how to enhance innovativeness of society through skills development from early childhood to career levels. The track will strongly link to our ministry's Competence Based Curriculum efforts as a pathway to transformation of societal minds.
2. Tech & The 4th Industrial Revolution Summit
4th Industrial Revolution: The Why, What and How of 4IR; Looking into Kenya's progress and prospects
3. Commercialization Summit
This commercialization track focused on strengthening best practices and systems for good research and commercialization. This is part of the Science, Technology and Innovation (STI) mainstreaming as part of the ongoing reforms in higher education sectors aimed at positioning Universities and other tertiary institutions to exploit research and intangible assets as a substantive alternative source of revenue.
4. Start-Up Kenya Summit
The startup Kenya track focuses on startups, from across the country, aiming to showcase and link the most promising startups to investors and funders; provide linkages and information on ecosystem support available to startups. This is in line with Kenya National Innovation Agency's mandate of supporting enterprises that emerge from research and innovation through the process of commercialization.
Under the guidance of their mentor Dr Kirori Mindo, Laikipia University students exhibited the following projects:
1. SMART KILIMO BORA By N11/3/0457/017 - Kelyin Paul
Agricultural use-case for detection and prediction of diseases affecting common horticultural crops in Kenya and especially Laikipia County. This project uses Smart IOT technology to monitor plants within the farming ecosystem, remits these data to a cloud-based repository and further detects any diseases affecting these plants. Further, it provides data on severity of the disease, possible causes and any predictive analysis on future occurrences, spread and possible prevention measures.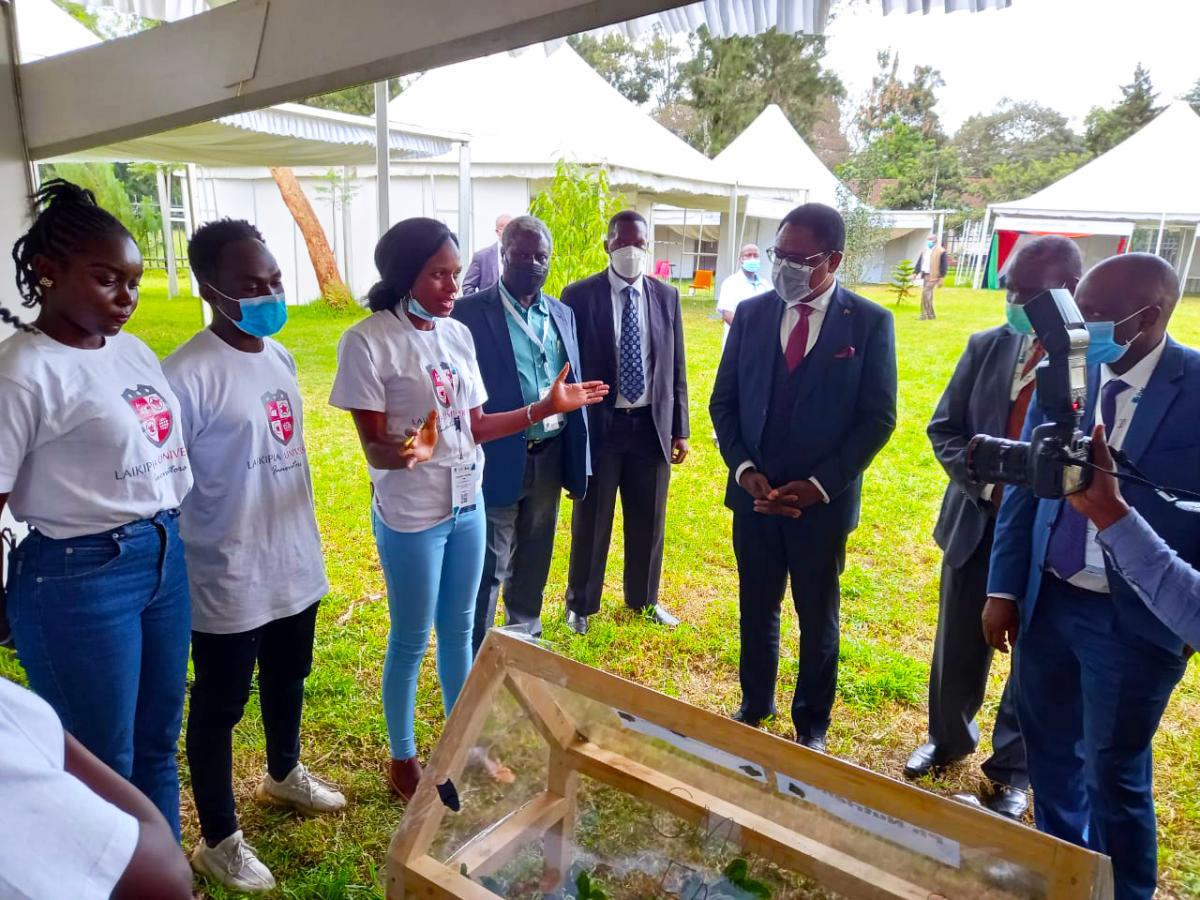 2. AUTO-IMAGE RECOGNITION FOR SECURE MPESA By N11/3/0559/018 Faith Chepkemboi
This project focuses on securing MPESA transaction by introducing smart face recognition at the MPESA agents' shops. Here, an artificial intelligent system scans a MPESA customers face and can predict whether the customer actually owns the account with full permission to withdraw or deposit money into/from the MPESA account. In addition, the innovation has the capacity to take account of various possible changes in the customer's biophysical profile occasioned by age, change of hair style, wearing of glasses, increased/decreased weight.
3. SMART ROBOTICS FOR OBSTACLE AVOIDANCE By N11/3/0600/018 Evelyne Wanyonyi
This is a robotic project that provides the basis for driverless cars. This comes in the heat of high number of car accidents especially in the PSV (Public Service Sector) mainly due to driver error, human fatigue and substance abuse. By marking our roads and using Google software, this project uses robots to ensure the vehicle adheres to road signs, twists and turns, as well as avoid obstacles. This will reduce road carnage and save lives.
4. BLIND AND VISUALLY IMPAIRED SMART GUIDE By N11/3/0063/019 Precious Khalayi
This potentially groundbreaking innovation features a smart stick which aids blind or visually impaired people by sending signals to their earphones, therefore avoiding danger. The smart stick can also send warning messages, information about routes, streets, amenities like access to toilets, hospitals among other critical resources that are important to people but difficult to access by visually impaired.
5. SMART HOUSE AUTOMATION N16/3/0594/018 Fredrick Warui
This project showcases smart energy saving, resource conservation, security identifier for residents and students, intruder sensing and alarm, temperature monitoring for automatic air conditioner. It also automates the closing of curtains and connects all these devices to the internet for data propagation to the cloud.