Prof. Charles Nguta,
Chairman
Laikipia University Institutional Ethics Review Committee (LU-IERC) is accredited to operate and conduct ethics review of research proposals in Social, Biomedical and Environmental Sciences being undertaken by members of Laikipia University who include undergraduate and postgraduate students, the staff, and also the community within the surroundings of the University. The University is committed to being in the forefront in ensuring that the country realizes its dream of having research of high ethical standards and seeing to it that all research is conducted in a manner that respects the dignity, rights and welfare of all participants.
LU-IERC operates under the umbrella of the National Commission for Science, Technology and Innovation (NACOSTI). It is charged with ensuring compliance with all regulations, policies and standards that concern animal and human welfare. It also engages in monitoring implementation of approved research, as well as preparing and submitting annual reports to NACOSTI. The Committee shall at all times safeguard the dignity, rights, safety, and wellbeing of all study participants and communities while paying special attention to investigations that may involve vulnerable groups. In this regard, the Committee shall review all submitted applications in accordance with the procedures established by LU-IERC. It shall review every research proposal before actual research is initiated. The Committee shall evaluate, with proper justification, all possible risks to participants and subjects, as well as the expected benefits and adequacy of documentation for ensuring privacy, confidentiality and justice issues. It is expected that in future, the Committee shall develop mechanisms of networking with other Institutional Ethics Review Committees (IERCs) within the region and internationally.
Downloads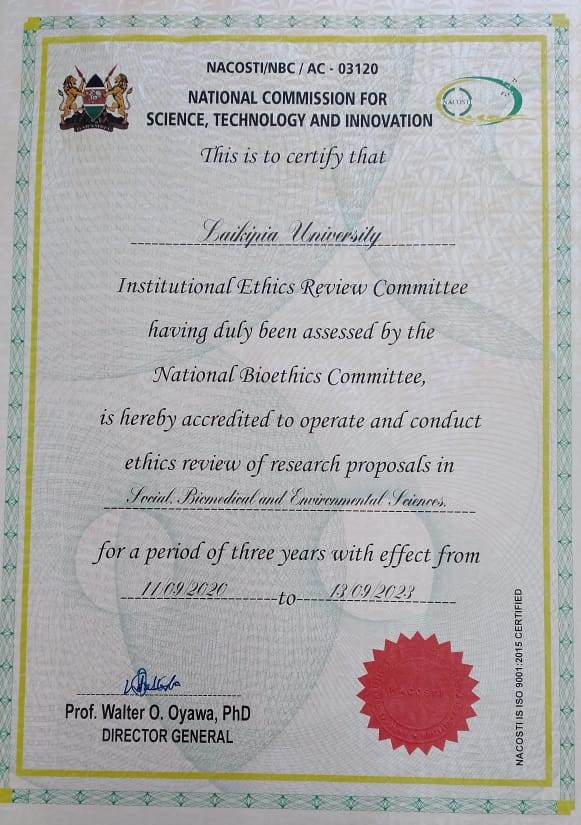 Accreditation Certificate