MESSAGE FROM THE CHANCELLOR
It gives me great pleasure to congratulate our graduands on this auspicious occasion of the 7th Graduation Ceremony of Laikipia University. The ceremony has witnessed the conferment of degrees and award of diplomas to over 2,300 graduands. I acknowledge the resilience and hard work of the graduating class of 2019 whose commitments have brought them this far to realise their dreams that are clearly evident in this great occasion. Of great joy is having in our midst, the great Mr. Eliud Kipchoge, E.G.H., recent INEOS 1:59 Challenge and World marathon record holder join the Laikipia University alumnus. Laikipia University has continued to make its mark as a University of Choice to many aspiring students on higher education.
MESSAGE FROM THE CHAIRMAN LAIKIPIA UNIVERSITY COUNCIL DR. KEN NYAUNDI, PhD
I am delighted to welcome you all to the 7th Graduation Ceremony of Laikipia University. To the graduands - the graduating class of 2019, I say 'Bravo'. I have confidence that the University has fully equipped and grounded you with knowledge and skills resonating with the core values of the University; quality, integrity, and respect.
The year 2019 has seen the University Council embrace a transformational agenda for the smooth execution of its mandate. The University Council has continued to ensure improved service delivery through implementation of a Performance Contract duly negotiated, signed with the Government of Kenya and evaluated.
MESSAGE FROM THE CABINET SECRETARY, MINISTRY OF SPORTS, CULTURE AND HERITAGE AMB. (DR) AMINA MOHAMED, E.G.H., CBS, CAV
As a Ministry, we feel delighted and honoured to be present and witness one of Kenya's greatest sportsmen; Mr. Eliud Kipchoge, E.G.H., recent INEOS 1:59 Challenge and World marathon record holder, awarded a Doctor of Sciences degree (honoris causa) of this University. This befitting achievement is a great honour to a man who through individual effort unified the whole world for 1:59:40.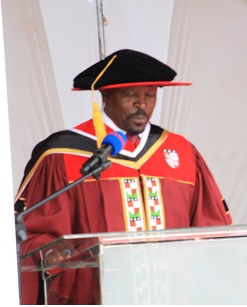 MR. MOHAMMED NYAOGA CHAIRMAN, CENTRAL BANK OF KENYA BOARD:  KEY NOTE SPEAKER
Despite all the intergenerational changes, the society continues to look up to you for leadership. One of the most important things that a university education inculcates, directly and indirectly, is the ability to lead. The Knowledge and skills that you have acquired over the course of your study are meant to enable you to quide and influence your society through your thinking.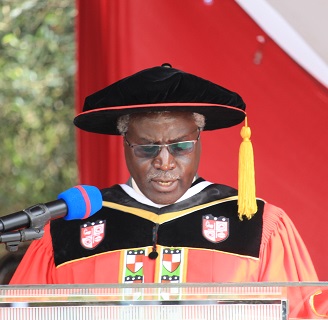 MESSAGE FROM THE VICE CHANCELLOR PROF. KIBETT ROTICH, PhD
Professor of Bio-Statistics and Informatics
Indeed it is a remarkable day since in our midst is a great son and athlete of this great Nation Kenya: We celebrate Mr. Eliud Kipchoge and thank him for having accepted the request by the University Council, Management Board and Senate for the award of the Honorary Degree of the University. On my own behalf, and that of the University Management Board, Senate and entire staff of Laikipia University, I congratulate the graduating class of 2019.
To our graduands, I take this opportunity to express confidence in your ability. As you leave the environment of Laikipia University, you remain our worthy ambassadors. Lead by example. Remain focused and aspire to be world shapers as you have been empowered.
Congratulations!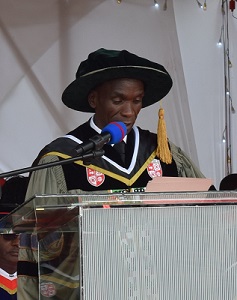 DR ELIUD KIPCHOGE, EGH
Today is a very special day for my life and marks an important history not only for me but also for my family. I am truly honoured and humbled to accept this Honorary Degree in Science from Laikipia University. I accept this award for me and on behalf of my family, managers and coaching team, teammates, friends and supporters who helped me along the way.
Thank you Laikipia University for giving me the chance to be part of your fraternity. I was never part of an actual University lecture, but you have allowed me to share my contribution in sports and life lessons as part of your curriculum.